Keep Your Attic Temperature Down with
Ultimate Radiant Barrier & Insulation provides installation of the very best solar attic fans in the industry.
Top 5 Reasons to Install Our Solar Attic Fans!
Reduces the load on your HVAC system.
The closer your attic temperature is to the outside ambient temperature the easier it is for your air conditioner to cool your home. By lowering your attic temperature you will save on your cooling bills. Also, when your HVAC unit is in a cooler environment you will take the stress off of the unit resulting in less mechanical breakdowns and saving you money and aggravation.
Increases The Life of Your Roof!
Attic temperatures can reach a sweltering 170 degrees on hot summer days. By installing our solar attic fan you can reduce these temperatures by up to 50 degrees. In fact, shingle manufacturer warranties require proper attic ventilation. When your shingles are overheated the granules on the shingles loosen and are washed away.This leaves the shingles exposed to the sun, which significantly reduces the life expectancy of your roof.
Takes The Heat Load Off of Your Insulation!
A hot attic will actually fill your insulation with heat causing excessive heat transfer from your attic to your living space. By reducing this heat you will improve the efficiency and comfort of your home.
Reduces Moisture Levels in Your Home!
Your home's HVAC is designed to pull moisture from the air. As air from your air return crosses the cold A/C coil it extracts moisture. The air is then transferred through the duct system in your attic. This is where you will build moisture because of the temperature differential between the cool air in the ducts and the excessively hot attic. By lowering attic temperatures you will lower the humidity level in your duct work and your home, greatly increasing your homes comfort.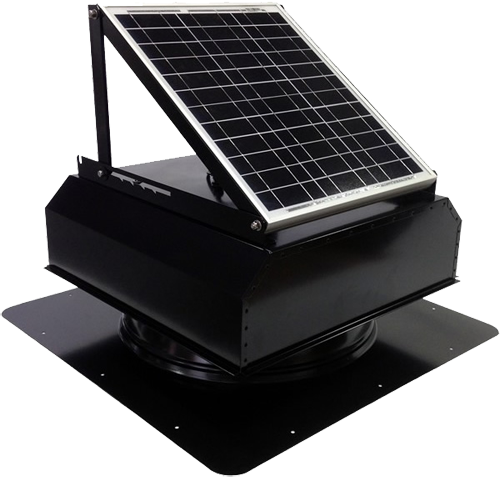 Reduces Moisture Levels In The Attic All Year Long!
Attic moisture levels increase in several ways. In everyday living, you are taking showers and cooking which raise the humidity level in your home. Also as hot and cold fronts move through, we have temperature swings from hot to cold. This will cause condensation in your attic. Our solar fan is unique because not only does it come with a temperature sensor it also has a humidity sensor that turns the fan on when humidity levels reach 75%. High moisture levels in your home can be detrimental to your insulation and can allow mold to grow.
Attic Breeze solar attic fans are best in class, professional grade ventilation products. Other companies may market themselves as offering a professional grade product, but what does that really mean? We believe a professional grade product should be one that is engineered for a lifetime of durability. It should be able to withstand the harshest weather conditions imaginable, intense summer heat year after year, and still function exactly as it was designed. These are not the over-seas made retail products you might find in a "big box" store. Professional grade means never using plastic (polymer) parts that will degrade in the sun or deform from heat over time. Professional grade is using only the highest quality parts and materials, even if that means it may cost a little more to make the product. And most importantly we believe professional grade means manufacturing in the USA, because when it comes to quality American made matters.
BETTER PARTS
impact resistant, commercial-grade monocrystalline solar panel, available in 20, 30, 40, and 60 watt models
proprietary high-efficiency variable speed motor for optimum fan performance
corrosion-resistant zincalume alloy construction designed to withstand 170MPH windstorm conditions
stainless steel brackets, hardware, and rodent guards
dynamically balanced 14″ aluminum fan blade; will not lose performance in heat like plastic fan blades
heavy-duty powder coated finish available in a range of colors designed to compliment your roof
BETTER PERFORMANCE
engineered with UltraFlo® technology to give maximum airflow production; best performance of any solar attic fan on the market
monocrystalline solar cells for optimum power production over a high temperature range; gives better performance than polycrystalline cells
all metal construction for long lasting durability; will not become brittle and crack after years of sun exposure like products made from plastic
fan blade designed for whisper quiet operation
both Florida and Texas windstorm tested and approved
BETTER PRODUCTS
industry leading LIFETIME WARRANTY on all residential solar attic fan products
available with the Breeze Mate® control system, offering a range of both safety and operational features for your attic ventilation system
the most accessories and mounting options of any solar attic fan product available
thermal switch control standard on all solar attic fan models at no additional charge
available in self-flashing, curb-mount, gable mount, or wall mount models
MADE IN THE USA
Benefits of Solar Attic Fans
Converts passive ventilation to active.
Extends the life of your roof and AC.
Reduces moisture which reduces mold & mildew.
Increases air exchanges (per hour).
Reduces HVAC costs & cooling cycles.
No cost to operate.
Qualifies for the 30% Federal Tax Credit program (unit & installation)
Extreme weather ready with aluminum components and stainless steel fasteners
Made in Texas!
The purpose of proper ventilation is to reduce temperatures inside the attic and other enclosed spaces throughout the year.  In the summer this helps make the living areas more comfortable and reduces A/C usage which also saves energy.  This helps reduce heat which can cause deterioration of singles, roof boards, sheathing, siding, insulation, and valuables stored in the attic. Not to mention, this can also shorten the lifespan of an HVAC system.
In the winter, proper ventilation helps to prevent moist air from condensing on the underside of the roof, beams, and rafters. Condensation can cause mildew, rotting of wood and excessive rusting of some components of the roof structure.
Our solar attic fan is a great solution to combat all of these conditions. No other product offers these features, performance, and style at such a great value.
While passive ventilation works fine in areas with moderate climate, it cannot disperse heat effectively enough when your roof's surface temperature reaches over 180 degrees.
With nowhere to go, the heat trapped in your attic will find its way into your living space, causing a spike in the indoor ambient temperature. The increase in the temperature will then cause your air conditioning system to consume more energy as it tries to keep temperature low, subsequently causing it to consume more energy.
Not all attic solar fans are created equal. Ultimate Radiant Barrier & Insulation only uses top of the line attic fans Made in Texas. Enjoy unparalleled features and benefits from the world's first solar fan manufacturing company:
Corrosion resistant construction – All solar attic fans are built to last. Stainless steel hardware and brackets ensure that your fan will never be prone to corrosion and water damage.
High efficiency impact resistant solar panels – Unlike most brands, our fans only use high-performance monocrystalline solar panels – one of the toughest silicon materials known to man. No need to worry about breakage.
Push your savings even further. Solar attic fans by Ultimate Radiant Barrier & Insulation have been proven to save energy that installing it on your home makes you eligible for a 30% Residential Renewable Tax Credit. If you use it on your business, you likewise qualify for a 30% Business Energy Investment Tax Credit. Your solar fan would have paid for itself in terms of energy savings in a matter of years.
With Ultimate Radiant Barrier & Insulation, you are assured of high-performance products and professional services at top value you can't find anywhere else. Call us today and find out how you can get your solar attic fan.
Get a FREE Estimate for Your Home Today
Our professional technicians will come to your home and evaluate your insulation needs. They will then go over with you every option and find the best solution for both your home and your budget. Call us today!