We Have Installation Techs Standing By
Stafford Insulation Services
Ultimate Radiant Barrier & Insulation serves the great residents of Stafford, Texas.  As the leading Stafford Insulation Company, we have many great relationships with the folks in the Stafford area and have successfully completed multiple attic insulation jobs in that area.  We offer a FREE NO OBLIGATION quote for insulation for your Stafford home.  Just fill out the form above or on our contact page.  If you are on mobile, click any of the blue "Click to Call" buttons on our site to connect immediately to one of our friendly sale staff.  We are here to help you and will make sure you get the best bang for the buck in your Stafford home insulation installation!
Like your Houston counterparts residents in the Stafford area suffer from similar conditions with weather and climate that affects their attic insulation.  With Ultimate Radiant Barrier & Insulation's wide variety of attic insulation solutions, we are confident we have the right fit for both your home and your budget.
Save Money on Your Monthly Electric Bills with Ultimate Radiant Barrier & Insulation
Your attic system works in unison with each other to maintain a comfortable quality of life in your home daily.  Your attic system consists of your roof, insulation and HVAC system.  If you have insufficient or faulty insulation up in your attic, this causes your AC unit to work harder to keep your home cool in the summer and warm in the winter.  The results being that your AC system works harder (which shortens the lifespan of the AC unit) and it stays on longer to maintain the temperature you want your house at in order to feel good, which, in turn, costs you more money each month.
With proper insulation installed in your Stafford home, you now give your AC system a bit of a break because your house is able to hold in that heat or cool air keeping your home comfortable throughout the year and putting money back in your pocket.
Ultimate Radiant Barrier & Insulation's products will insure that your house is comfortable and lower your electricity usage by at least 18% and up to as high as 40%!  The only thing you have to do is figure out what you're going to do with that extra cash in your bank account each month!
Stafford Insulation Services
We specialize in a variety of Residential and
Commercial Insulation Services including:
What Insulation is Best for Me?
Fiberglass Insulation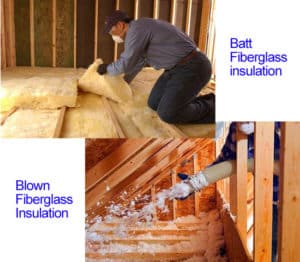 Fiberglass insulation comes in two forms:  blown-in and batt.  If you choose blown-in it can be added on top of existing attic insulation that may have settled over the years or can be installed from scratch after an insulation removal service has been performed. This is an economical and reliable insulation solution. Fiberglass batt insulation is the traditional type of roll insulation you most likely have in your attic now.  This is a tried and true option especially if your insulation is old, rotted or ineffective in keeping your home comfortable.
The home insulation experts at Ultimate Radiant Barrier & Insulation can dicuss with you the best course of action that will fit your needs and your budget.
Spray Foam Insulation
Offering both open and closed cell foam insulation, Ultimate Radiant Barrier & Insulation is the leading Houston insulation company to call if you want this type of attic insulation installed in your home. It completely seals your attic and/or walls from the outside providing structural integrity to your home and fills all gaps as an added bonus. The R-Value of Spray foam is phenomenal and the difference is literally night and day.  Open-cell foam is usually used in walls and for sound proofing as well as insulating, whereas closed cell is primarily used in roof systems to seal the attic and maximize the savings on your electric bill.
Spray foam insulation is by far the top of the line treatment for your attic.  With the recent hurricane in Houston, FEMA has approved spray foam as a viable and weather resistant solution for homes that are prone to flooding.  Spray foam offers a superior protection not only from the elements, but will minimize your electric bills for years to come.
Radiant Barrier Foil
One of the most widely used forms of radiant heat barriers in the country. Radiant barrier foil insulation is very affordable and generally can be installed in about one day. That's why it's a favorite among homeowners and contractors alike!  Cities nationwide are now recognizing the importance of radiant barrier nad have now mandated the use of this product on new home builds due to it's effectiveness.
Radiant barrier foil an be installed in a multitude of ways, making it ideal for quick home remodeling projects or roof repairs. This material will NOT interfere with any existing insulation and roofing components. Once it's installed, you'll barely notice it's there. Radiant Barrier Foil reflects 97% of the Sun's heat EVERY time!  Ultimate Radiant Barrier is the only company offering a lifetime warranty on this product.
Insulation Removal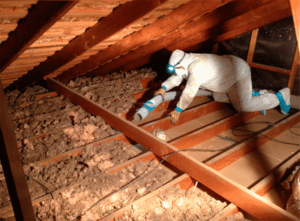 If your house is older than 10 years, it might be best to start fresh and get rid of that old insulation all together. If that is the case, Ultimate Radiant Barrier & Insulation can come to your home and remove all the old insulation (and any critters that may have made your attic their new home) and properly dispose of it so your home is ready for a new application by our team of professionals.
By removing the old insulation not only do you get a fresh new canvas to start a new insulation installation, but any mold that may have accumulated over the years from moisture penetrating your attic is also removed, leaving you with a clean slate to start fresh and new!
Proper Insulation Benefits
The Leading Stafford Insulation Company
These are just a few highlights of the products we offer.  To find out more or to get a quote, please feel free to contact us or you can fill out the FREE Quote Form on this page and one of our friendly knowledgeable staff will get right back to you.  Our primary goal is it see that every home has proper and adequate insulation, whether you buy from us or not, but we know that with Ultimate Radiant Barrier & Insulation your home will be done in a timely and professional manner.  We look forward to serving you!
How We Compare To Other Stafford Insulation Companies
Look, I'm sure our competitors in and around the Stafford area can all install attic insulation and they probably do a decent job.  But we're The Cadillac of insulation companies.  If you care about the little things — like having professional, well-dressed, proud, blue collar insulation pros show up to your door 15-minutes early… as opposed to Joe the insulation dude, who mopes to your front door 30 minutes late, looking like he just came off a three day bender, shirt screaming, "Joe, I don't fit you!"… then you should definitely call us.
Beware Companies Offering Cheap Attic Insulation
Like most things in life, you get what you pay for.  Attic insulation is no different.  We hear from our Stafford customers that so and so is offering insulation cheaper.  Insulating your home is an investment in both your home and its value down the road.  It is a product that will cut your energy costs by up to 40%.  Say your monthly bill is around $200.  A savings of 40% is $80.00!  That's $960.00 per year!!
Think of what you could do with an extra $960 in your pocket!  So when a company tries to sell you cheap insulation, you need to see the bigger picture of what it will cost you down the road.  If you go with them, it won't hurt our feelings, we don't have to live in your house!  You do! Our advice is get the best insulation you can afford, whether or not you buy from us.
The bottom line is the insulation MUST do the job it is designed to do, otherwise, you're just throwing that money out the window (literally) every month that you house continues with faulty or sub-par home insulation.
Our Mission Is Your Satisfaction
Expert work that is purely based around providing 100% customer satisfaction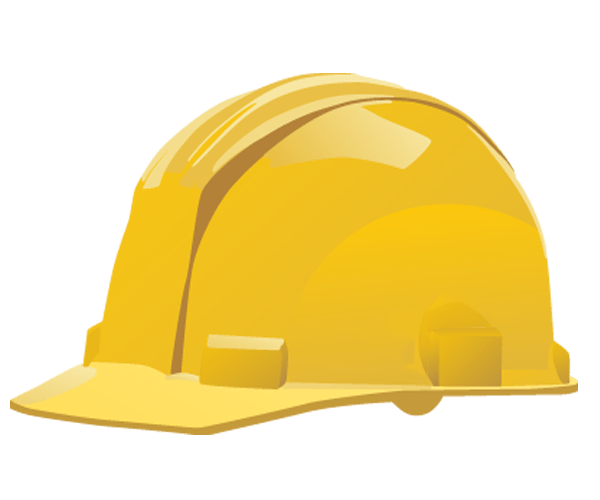 Safety Is Our #1 Priority On Every Job
We take safety very seriously. No shortcuts, no compromise. The quality of our works shows.
We're Mindful of Your Time
We come to your home and get the job done. We don't waste your time. We do what we say and do it fast without compromising safety or quality.
We're Standing By To Help Now
Call 713-805-0394
or send your info below