WHEN YOU NEED HOME INSULATION DONE RIGHT
Houston's Best Insulation Company
Serving Greater Houston and the
Surrounding Areas Since 2006!


Home Insulation Service Houston
Every year, Houston homeowners are throwing away thousands of dollars on unnecessary cooling and heating costs caused by faulty attic insulation!  In fact, the lack of proper roofing insulation and ventilation can lead to temperature spikes of up to 25%. This increase in the ambient temperature inside your home causes your air conditioning system to compensate for the excess heat – forcing it to work twice as hard and consume more energy. 
Given Houston's harsh, subtropical climate, your home is exposed to considerable heat from the sun. This accounts for much of the heat you experience indoors. Unfortunately, regular attic insulation alone cannot completely prevent heat from being transferred into your living space. A significant amount of heat is bound to reach your home.
Fortunately, there are radiant heat barriers, like the radiant barrier foil provided by Ultimate Radiant Barrier & Insulation.  Unlike regular insulation that slows down the transfer of heat, radiant heat barriers resist the transfer of heat by reflecting it. Without the added Houston heat, the ambient temperature in your home is significantly lowered. Your air conditioning system consumes less energy, and you get:
A decrease of up to 40% in your cooling and heating bills
Lower load on your air conditioning system
A more comfortable regulated temperature in the home
A longer lasting roof
What is Radiant Barrier Foil and How Does it Work
Because it is made of
aluminum, radiant barrier foil works by deflecting most of the heat that comes in contact with it. Aluminum has a heat absorption rate of 3%. This means that the remaining 97% of the heat is deflected like the reflective insulation foil we provide.
Materials with lesser densities conduct less heat, therefore the heat absorbed by the barrier is harmlessly dissipated before it reaches other parts of your attic. The same principle applies during colder seasons. Only this time, the heat generated by your radiator is deflected back into the house. Because the heat has nowhere to go, your home stays warm. The indoor temperature remains constant, and you consume less energy.
Here are Some Benefits of our Home Insulation Services:
Convenience – There is no need to take out your existing attic insulation. Radiant barrier types of insulation insulation work with most types of insulation.
Comfort – Enjoy maximum comfort all year round. You will immediately notice the change in temperature – your home stays cool during summer, and comfortably warm during the cold months. You'll also avoid the spikes in humidity caused by inconsistencies in your home's indoor temperature.
Hassle-free installation – No hassle: radiant barrier foil is laid over or stapled on to the roofing joists. Installation generally only takes about a day to be to be completed by a professional. The joints between applications are then taped to seal the seems between each section.
Durability – Unlike regular insulation, radiant barrier foil will not corrode, rot, or decay. Aluminum is also not susceptible to pest damage. In fact, it has been proven by multiple studies that aluminum can withstand up to 10 years of exposure to extreme weather conditions.
Savings – Enjoy up to 40% savings on your cooling and heating bills. With hundreds of dollars worth of annual savings, the radiant barrier would have paid itself in a matter of years.
Spray Foam Insulation
Spray foam insulation is by far the superior solution for any home. It offers the very best protection from the elements and adds structural integrity to your home.
Blown Fiberglass Insulation
This is an excellent solution to get your home insulated fast and easily. It is cost effective and can be blown in your attic in just a few hours.
Batt Fiberglass Insulation
Batt insulation is tried and true. It has been around forever and works every time. This solution is also cost effective and is especially useful if you are adding a floor to your attic.
Radiant Barrier Foil
Radiant barrier foil is installed to the joists in your roof. It's main purpose is to deflect the Sun's harmful rays and keep that unwanted heat out of your attic.
Insulation Removal Service
If you have a home with insulation that is over 10 years old, or has mold and critters living in it, our removal services will give your attic a clean slate so you can properly insulate that space.
Solar Attic Fans
Solar attic fans to remove the heat from your attic space and blow it outside of your home while using only the power of the sun to power the device.
Insulation Options Explained
I have used Ultimate Radiant Barrier several times for our rental homes. The staff is friendly (family owned), professional and reliable. The foil did lower the electric bills significantly and was a great choice. In providing upgrades to some of our older homes, the blown-in insulation was done neat and hassle-free. I was surprised to see a poor review….this company is one I will continue to use in the future and recommend/refer to my friends/coworkers.
Home Topic Property Management
I had them install blown-in attic insulation over 1500 sq/ft of attic space in 3 different areas of my home. Really satisfied with the quality of the work and value of service I received. Marc, the owner, went over all of the options and explained them accurately. He also faithfully honored the living social deal i purchased and I used it to add a higher level of insulation to an area of the attic that needed it more.

On the day of installation the crew arrived 15 minutes early, were professional, efficient and careful with our home. They walked me through their work and answered my questions. Would recommend them to other.
Marc's team came out and installed both radiant barrier and fiberglass insulation in my condo. The difference is night and day and I couldn't be happier. Our electric bill was running over $250 in the summer months and after the application, last months bill was down to $142.63 and I didn't change my indoor habits with the AC. I highly recommend these guys to anyone looking to lower their electric bills. They came in, explained the process and after we agreed on a price they got to work the next day. Very impressed with the service. Thank you again!
I am pleased with Ultimate Radiant Barrier. A VERY professional company!  thanks guys!!!
Livingsocial & Ultimate Radiant Barrier provided me with excellent service recommend both companys!
Had my house wrapped in radiant barrier by these guys and saw a huge drop in temperature in my attic. I would recommend them to friends and family.
Very pleased with the service I received. I am planning on installing the radiant barrier spray to lower energy costs through the end if the summer, and to reduce my heating costs come winter. Thank you for the consultation, nice to see a company that is not in a hurry and takes their time with customers.
I had noticed this year our cooling costs were just too high. I called Ultimate Radiant Barrier and Mr. Hinson came out himself to help us figure out the best way to cut costs. Grateful for polite, professional, efficient service from his team and finally got my bill manageable.
I don't usually post reviews, but the guys from URB went above and beyond. They were very professional and Mr. Hinson even took the time to explain how much energy I was losing. Just all around good guys, I'm glad I followed my friends recommendation and got it done.
I am extremely impressed, and that doesn't come easy from me, I've had many horrible experiences with service companies.
His workers were there the next day, on time, and so professional, wore slip shoe covers, put down throw clothes to prevent my floors and carpet from dirt and or getting damaged, cleaned up after themselves, and waited patiently while i inspected what they had done, as well as answer my questions. They also called me within a few days, to make sure everything was working fine. WOW now that's cool.
I'm couldn't be happier, its cold today, and I'm nice and warm. As stated above its rare that i'm impressed with a services company, especially when dealing with something as messy as blown insulation, but Ultimate Radiant Barrier & Insulation did a spectacular job! I highly recommend this company to anyone. From start to finish I am one satisfied customer.
How We Compare to Other Attic Insulation Houston Companies
Look, I'm sure our competitors in and around the Houston, Texas area can all install attic insulation and they probably do a decent job.  But we're The Cadillac of insulation companies.  If you care about the little things — like having professional, well-dressed, proud, blue collar insulation pros show up to your door 15-minutes early… as opposed to Joe the insulation dude, who mopes to your front door 30 minutes late, looking like he just came off a three day bender, shirt screaming, "Joe, I don't fit you!"… then you should definitely call us at 713-805-0394.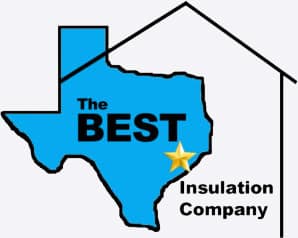 Beware of Companies Offering Cheap Attic Insulation
Like most things in life, you get what you pay for. Attic insulation is no different. We hear from our Houston customers that so and so is offering insulation cheaper. Insulating your home is an investment in both your home and its value down the road. It is a product that will cut your energy costs by up to 40%. Say your monthly bill is around $200. A savings of 40% is $80.00! That's $960.00 per year!!
Think of what you could do with an extra $960 in your pocket! So when a company tries to sell you cheap insulation, you need to see the bigger picture of what it will cost you down the road. If you go with them, it won't hurt our feelings, we don't have to live in your house! You do! Our advice is get the best insulation you can afford, whether or not you buy from us.
The bottom line is the insulation MUST do the job it is designed to do, otherwise, you're just throwing that money out the window (literally) every month that your house continues with faulty or sub-par home insulation.
Our Quality Assurance to You
Ultimate Radiant Barrier & Insulation is insured, licensed, and bonded. We make sure that all our projects follow the strictest of safety guidelines and safety procedures. With us, you can rest assured that your property is safe.
Stop wasting hundreds or even thousands of dollars every year needlessly on excessive energy bill expenses. Ultimate Radiant Barrier & Insulation has the solution to all your heating, cooling, and Houston insulation needs. Call us today and find out how we can get you started with lower energy bills, a more energy efficient home, and a more comfortable lifestyle. We are here to answer any questions that you may have! You may have searched for insulation contractor near me to find us, we are proud to serve the residents and businesses in Houston TX and we look forward to making your house or business more efficient with an excellent insulator to help lower your bills.
Get a FREE Estimate for Your Home Today
Our professional technicians will come to your home and evaluate your insulation needs. They will then go over with you every option and find the best solution for both your home and your budget. Call us today!
Monday: 8:00am-7:00pm
Tuesday: 8:00am-7:00pm
Wednesday: 8:00am-7:00pm
Thursday: 8:00am-7:00pm
Friday: 8:00am-7:00pm
Saturday: 8:00am-7:00pm
Sunday: CLOSED